Argon offers a wide range of solutions, some fully managed, some reactive to when the client needs us. These are all delivered using the technical skill sets of our experienced team and the wider Argon infrastructure. Our solutions recognise the successful operation of modern businesses rely upon the uninterrupted operation of the IT systems and our philosophy here is to be proactive rather than reactive. Fundamentally, we do not believe one size or solution fits all and we take an ongoing interest in your IT and operational needs to develop the correct solution which best meets the situation.
Even the most impressive IT systems are redundant without the technical expertise required to maintain them.  It is crucial to have qualified engineers on call who can respond quickly and efficiently.  Argon can provide a range of technical skills depending on your requirements; from desktop engineers to experienced  server and network technicians and security consultants.  Whether you require a simple desktop installation or a complex systems platform migration project; we have the experience and qualified staff to meet your needs.
Cyber threats are a major concern for all businesses, with loss of data, reputational damage and regulatory fines leading to sleepless nights for business owners, Argon will work in partnership with you to identify areas of risk across the organisation.
We deliver complete security solutions which combine award winning technologies, in-depth risk assessments, penetration testing, dark web monitoring & security awareness training. Our defining goal is to make you more secure and to raise the level of cyber maturity.
Many small or medium sized businesses can't justify hiring their own IT expert, and even when they do; one person can only know so much.  IT is a constantly evolving area, and even a small business can require a wide range of competencies and specific knowledge in order to work. Save time and money by using Argon to provide the expertise you need, at a level and price that suits you.
Our highly qualified staff can integrate seamlessly with your business, giving you the benefit of having a whole team of specialists and experts at your disposal. Our Managed Services are designed around your business need, be that Desk Top support for your users, on Infrastructure Management, our recurring revenue solutions provide you the skills you need at the times when they are needed most.
Cloud computing is not all the same. We can help you to leverage the best of the Cloud for your business whether that be the first steps to migrating a single service / data set or a full Cloud solution.
Our team of experienced pre-sales and technical experts can help your business realise the best of Cloud by utilising leading public Cloud services and products offered by the likes of Microsoft Azure & Microsoft 365.
When something stops working it can halt the smooth operation of your business if you do not have a solution in place.  With a flexible contract tailored to suit your needs, Argon can deal with any problems that arise so that you don't have to.  Argon offer peace of mind, with guaranteed response times 24 hours a day, 365 days a year. Our bespoke contracts will find a response model that suits you, appropriately balancing speed, holding of spare parts and cost.
IT hardware is constantly being updated and you don't want your old equipment becoming a liability.  Following ISO 14001 & 27001 standards Argon can dispose of your old equipment in an environmentally friendly manner, while also ensuring your company's sensitive information is completely erased.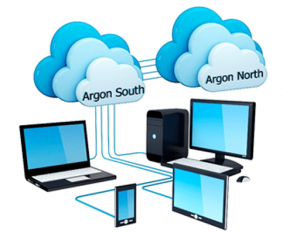 Argon offer a range of Cloud solutions hosted from a dual site, resilient datacentre infrastructure all stored locally on the Isle of Man. These services include Hosted Desktop enables remote working with constant access to all your data and applications, safe in the knowledge that your files are secure and backed up with excellent IT support available.
Argon offer a reliable hosted email platform for your business, Argon's hosted Exchange lets organisations big and small reap the benefits of using Microsoft Exchange in conjunction with Outlook, without having to own, manage or maintain in-house email servers. Full Exchange capability is provided, so you can share your calendars, contacts, mailboxes and use your smartphone, tablet, or any Internet browser to access your mailbox on the move.
Argon offers encrypted cloud back up which automatically backs up data every evening to Argon's secure data centres where it is further backed up ensuring you have real resilience and back ups of your data.
This data can be stored for as long as a client needs or customised to the needs of the organisation. Typically it is held for 30 days, however, some clients require specific data such as year end accounting data to be held for longer.
Having an offsite Cloud based repository for your data reduces the risk of damage in the event of a cyber event and the granularity of the back ups can enable the recovery of a file or folder deleted accidentally.
Argon charge for this service based on the volume of data stored and quotations can be provided on request.